In the new world of Web original programming how do we measure success?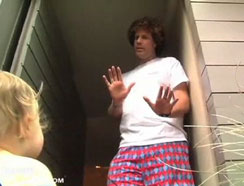 As showa like "Goodnight Burbank," MySpace's "AfterWorld," and "Prom Queen" revive interest in the Webisodic format, media buyers and programmers have to ask themselves what constitutes a hit in this new environment of on-demand and viral video.
At NewTeeVee, Chris Albrecht pulls some of the latest stats together to show that phenoms like Will Ferrell's FunnyorDie.com baby landlord sketch pulled down 45 million views, while KateModern claims 2 million. Mike Hudak, who runs Blip.tv tells me that 100,000 views is doing nicely for a series but once viewership hits a million a month you know you have a real hit. The question is not whether a single clip or sketch goes ballistic virally. The point for advertisers is whether the Web can build a media entertainment brand that is worth investing in. Hudak feels this is the case, but it requires a diminished cost structure and real consistency. You are not going to make an online hit work on a TV budget for a good long while, he admits. But if a program like "Goodnight Burbank" or "RocketBoom" can maintain consistency, then they can build an audience. Releasing episodes on a regular basis, keeping the look, feel and format consistent across episodes, are key to success he argues.
Media buyers I ask about these issues have a range of thoughts. Some feel that slapping an ad banner on something that grabs a few million views is probably not so great a deal if the brand can make their own longer form programming and generate an audience that gives them full attention. Others say they like the opportunities these shows offer for deeper product integration. Some hosts weave promotions for the advertiser into their content.
We are in a new world in which the metrics and the content are shifting beneath our feet and both media producers and advertisers are trying to figure out how to make best contact with a fragmenting audience.
See Also